> 13 Kitchen Design Ideas That Increase Home Value
13 Kitchen Design Ideas That Increase Home Value
Does your kitchen design need a makeover? If you're selling your home soon, the kitchen is the first place you should invest in while preparing it for the market, and strategic updates can add tens of thousands of dollars to your home's value. The kitchen is one of the most critical areas of your home, so don't overlook its functionality and appeal.
Get inspired by these 13 kitchen design ideas for homeowners:
1. Consider an open floor plan kitchen design
If you have a galley kitchen or closed floor plan, it may be worth it to connect common living areas by removing walls. More fluid and flexible ground floor layouts are popular today because they allow households to use space for various activities and offer a shared experience that families don't get with separated rooms.
2. Refresh the paint on your walls
Kitchens are home to various messy (and delicious) substances and one of the first areas to become splattered or stained is the wall. It's an interior designer's secret weapon that light colors make any room appear more spacious. Never underestimate the power of newly painted walls – your kitchen will instantly become more modern, clean, and open in the time it takes the paint to dry.
3. Update countertops
It's a critical part of your kitchen's design, in terms of cleanliness and appeal. Replacing your countertops is a wise investment if yours are old or stained. Countertops are often the first thing viewers notice when visiting a home on the market. Clean lines and wipeable surfaces will add value to your kitchen, and prospective buyers are put off by any kitchens that don't feature their countertops.
4. Add contemporary lighting
Add recessed or task lighting to your kitchen, or install an overhead light with a modern ceiling fan to elevate the presentation. Task lighting with decorative pendants create an attractive statement and come in various materials and styles, as do ceiling fans.
5. Update your layout with a kitchen island
If you're considering full-scale renovations, add a kitchen island to your plans. People love this feature for its attractiveness and usefulness. Who doesn't want more counter and cabinet space or an extra sink? Additionally, islands are synonymous with luxury, even in smaller kitchens. Take a look at the stand-alone islands well-suited for less spacious kitchens.
6. Use easy-to-clean rugs and mats
Kitchen floors are well-trafficked and have colder surfaces and you can make them cozier while maintaining hygiene by placing non-skid runners on walkways or a mat by the sink. From natural fibers to microfiber and polyester, there are plenty of materials to select. Tie them in with the accent colors you've chosen for your lights, walls, and other features to tie the look together. A well-placed mat is an affordable addition that makes your kitchen more marketable.
7. Upgrade your cabinets
Next, assess your cabinets. Painting, replacing, or even simply changing the hardware on your kitchen cabinets will make a big difference in the eye of the buyer. Handle-free, minimalist cabinets are trendy. Other popular varieties include painted wood cabinets and ones with open shelving and glass fronts. You're encouraged to think inside the box with cabinetry, so check out features like pantry, recycling, trash pull-outs, vertical baking sheet storage, or built-in lazy Susans for pots and pans.
8. Replace your hardware
Aside from cabinet hardware, think about the door knobs, faucets, electrical plates, and other metal fixtures that could use a makeover. The smaller items in your kitchen will help to sell your home and create a cohesive appearance.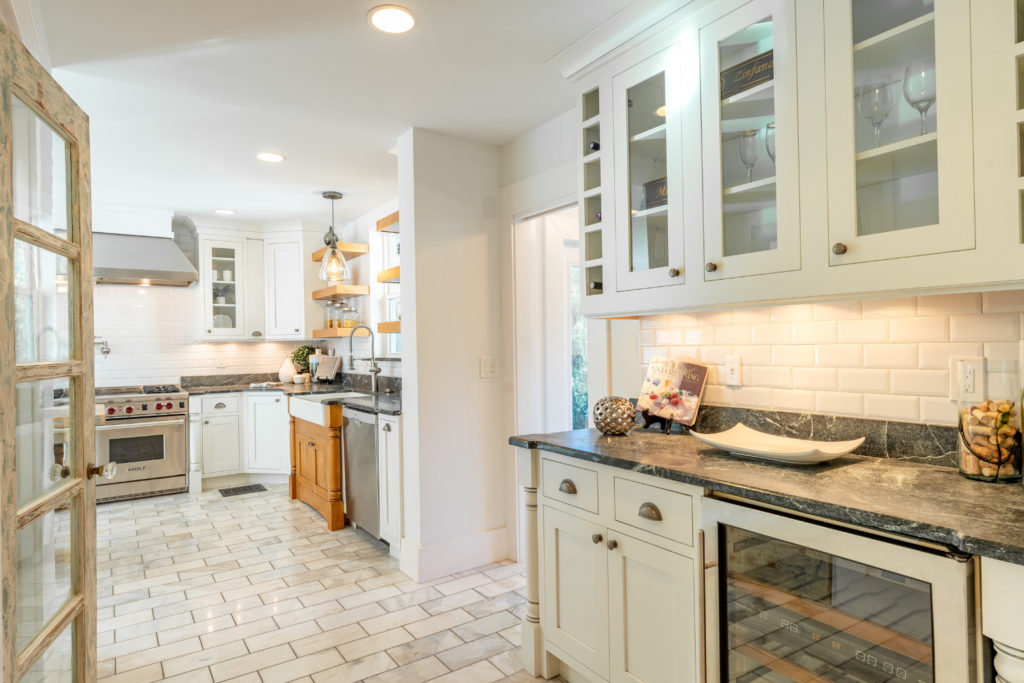 9. Enhance your kitchen design with countertops, backsplash, or floors with tile
Tiles are popular and appealing; they can be playful or charming, adding just the right amount of detail. Large, muted tiles made from slate or ceramic make fabulous flooring. Stone or white ceramic tiles are popular for countertops and complement the backsplash. Have fun with the backsplash and incorporate patterns, colors, and styles that flow with your kitchen design– like small, glossy kitchen tiles with a bold hue.
10. Add a nook to eat, study, or lounge
Breakfast nooks and cozy corners can be a budget-friendly kitchen update or part of more extensive work. Get creative with your space and think about upgrading or adding a tasteful bay window bench, built-in seating areas, new bar stools for counters and islands, or a cozy café-style table – especially if you don't have an eat-in kitchen.
11. Install new appliances
Although new appliances are always desirable, they may not always be top of mind as you think about selling. Your options range in color, size, and technological features and these small swaps can have major impact. From smart fridges and energy-efficient dishwashers, these upgrades make an impression, especially if your current appliances are outdated. But not all new appliances add the same value to your home – make sure you invest in the ones that will yield the highest return.
12. Make use of wall space for intelligent storage
Think vertically from magnetic knife strips to pot racks to create more organization. It'll make your home listing stand apart – thoughtful kitchen design gets homeowners excited! Open shelves are especially trendy right now. Wall-mounted storage and build-ins enhance the functionality of your kitchen.
13. Everything AND the kitchen sink
Finally, there's nothing like a beautiful kitchen sink to inspire buyers. Kitchen sinks are easy to upgrade if you're planning a remodeling, so think big: larger kitchen sinks are desirable, from sunken to perched designs. Peruse materials that flatter the other design elements of your kitchen. Stone and copper are popular. Aside from its aesthetic upgrades, add a built-in sink disposal if you don't have one and ensure your plumbing runs well.
Kitchen design with Curbio, from soup to nuts
Now that you've got a few kitchen design ideas, it's finally time to make a plan. Work with Curbio to upgrade your kitchen to spice up and add value to your home before you sell it. We'll do the work quickly, manage the details, and finance the renovations. Our pre-listing home improvement solutions ensure houses fly off the market at great prices. If you're ready for the best home-selling experience, let us know about your property, and we'll be happy to send a complimentary, same-day estimate!