> The 11 Best Exterior Paint Colors to Sell Your Home Fast
The 11 Best Exterior Paint Colors to Sell Your Home Fast
Dull, faded paint.
Cracking or peeling paint.
A color palette from 10 years ago.
What do all three have in common?
No matter which paint problem you call your own, they can all derail your home sale. After all, one of the first things potential buyers notice about your home is its paint job. So if it's unappealing, you can easily lose their interest.
In our guide to home design trends, we covered some of the top interior colors that help homes sell. Now, let's get into the best exterior paint colors for selling a home, along with some tips that will help you make smart choices.
Painting to sell: What color should you choose?
Ultimately, what's the best exterior paint color to help sell your house depends on various factors, many of which we'll outline later. But, as a general rule of thumb, neutral and traditional colors — not bold, unorthodox ones — will help you appeal to the broadest set of buyers. And making strategic improvements and updates are the most high-impact way to appeal to buyers. Here are 11 such colors that might work for your home.
1. Taupe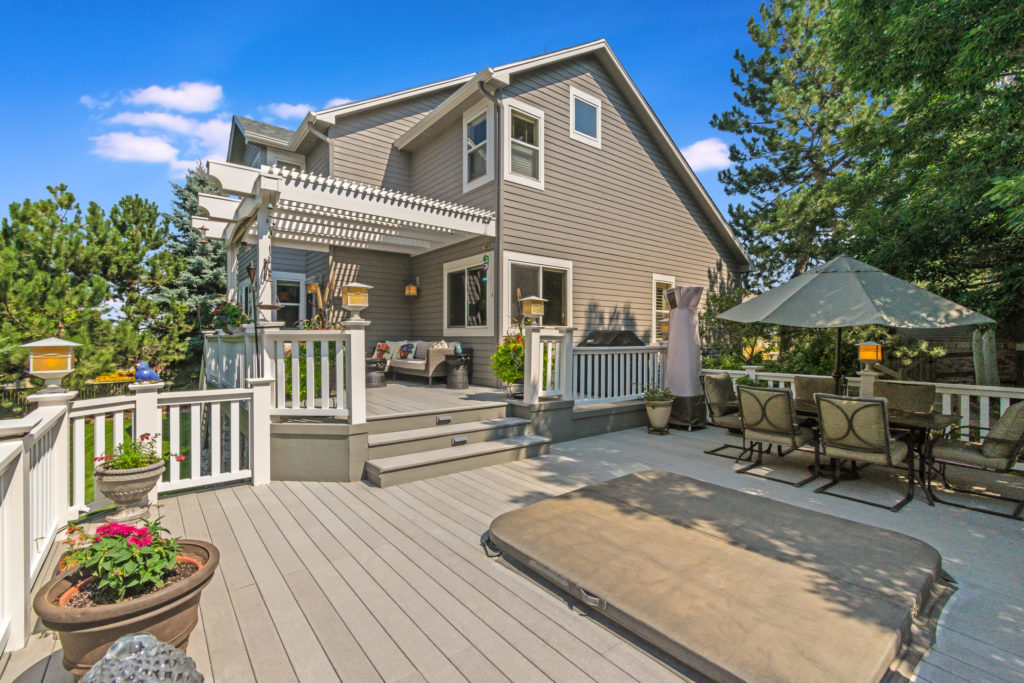 Taupe, which consists of several shades of rich gray-brown or brownish-gray, can give a home both a warm and sophisticated look. You'll often see this color on bungalow and ranch-style homes.
Because it's comprised of gray and brown, it can look dull if paired with the wrong colors. So we recommend brightening it up with whites or off-whites or contrasting it with darker grays or browns.
2. Navy blue
Blue is hands-down one of the most popular colors in general. So it's no wonder that navy blue — a deep, dark shade of blue — made it onto this list of the top exterior paint colors. It's a popular choice both for coastal and inland homes so, no matter where your home is located, it could be an option for you.
The combination of navy blue siding and white trim is classic. Plus, it works well with turquoise and rustic brown accents such as doors and shutters.
3. Pale yellow
The color yellow is not only eye-catching but it's also associated with cheer, happiness, and optimism, all of which you want potential buyers to feel when they arrive at your house.
While bright Tweety Bird yellow might be a little much if you want to attract as many interested buyers as possible, pale yellows can both capture attention and make your home look warm and inviting. In fact, since yellow reflects light, the right shade could even boost the curb appeal of your home by making it look bigger.
4. Gray
The exterior of bungalows and modern homes are often painted gray to create an air of sophistication, a sense of calm or both. The great thing about gray is that, unlike other colors such as yellow, you can make both dark, near-black shades and light, subtle grays work in your favor.
It'd be worth having a chat with your Realtor® to see what shades of gray would be most attractive to local buyers.
5. Off-white
Not only does off-white work well for trim but it can also be great for siding. If you're aiming for a warmer vibe than crisp, bright white provides, shades of off-white — cream, vanilla, ivory, eggshell, and so on — can be good alternatives.
This color is extremely versatile and pairs well with many other colors such as olive, brown, and black. Natural woods are also a great complement.
6. Blue-gray
Both blue and gray have already been mentioned on this list but we couldn't leave out the combination of the two! While there are various shades, the best blue-grays to help sell a house are pastel colors with gray undertones. In contrast to darker options, these have a lighter, softer appearance, which can keep the appeal of your home broad and make it feel welcoming.
Blue-gray is an excellent choice for Victorian-style homes and classic white, off-white, and gray are fan favorites for trim colors.
7. Wheat
Wheat combines the best qualities from both white and yellow exterior paints. From yellow, it takes a feeling of warmth and joy, and from white, it takes a clean, crisp, and classic feel. You can pair this paint color with dark browns, white, off-white, grays, blue-grays, and charcoal.
8. White
White is one of the best colors for selling a home because it's simple, timeless, and not influenced by personal taste, which allows potential buyers to see it as their own blank canvas. And when buyers can see your home as a blank canvas, it dramatically increases your home's value.
White is also one of the more versatile colors you can choose since it pairs with everything from black and brown to blues and grays and beyond.
9. Red
Cheery, lighthouse red feels both traditional and fresh. Unlike other exterior house paint colors, Benjamin Moore Million Dollar Red (2003-10) pops out against any background, whether your home is nestled in trees or on a clean landscape outlined only by the broad sky.
10. Brown
Just bold enough to capture attention but not too "out there" for potential buyers! Brown can be a great choice for your home's exterior paint. Depending on the shade you choose, your brown could be complemented nicely with white, blue, black or even red. It's worth considering especially if you have a ranch-style home.
11. Beige
Last but not least is another popular option for home exteriors — beige. A lot of people think it's the same as taupe, which was first on our list. But beige is actually lighter and has yellow and red undertones that give it a warm look and feel. This color strikes a good balance between being welcoming and tame enough not to scare off potential buyers, which is why it's one of the best exterior paint colors to sell your home.
The do's and don'ts of picking out paint
Whether you go with beige or any other color, here are a handful of tips worth keeping in mind.
Take your siding materials into account: For example, materials like concrete and metal often look better with tans, grays, and even black. Your agent will be able to point you in the right direction as far as this goes.
Contrast colors with your landscaping: If you have a ton of greenery in your yard, green paint might cause your house to get lost in the scenery. The same sometimes goes for brown paint and desert landscaping, gray paint and rock lawns, and so on. So, whatever colors you go with, be sure they stand out and make your house the star of the show.
Keep it tame but consider pops of color: With a neutral exterior paint, small pops of color can be just enough to capture attention. You could paint your door, shutters or window trim with an eye-catching accent color. Just be sure not to draw attention to less attractive aspects of your home such as your gutters or a clunky AC unit. The point of accents is to draw the eye to aesthetically pleasing aspects of your home.
Look around the neighborhood: While you don't want your house to match your neighbor's, you also don't want it to be too different. Ask your Realtor® about comparable homes and current trends to help you make the right choice.
Borrow inspiration from colors you can't change: Do your shingles have a hue that you could use as inspiration? Not only can this make picking paint colors easier, but it can give your home a more cohesive look and better curb appeal in the end.
Start small: It'd be a shame to paint the exterior of your home and then realize you don't love it. Save time and money by bringing your paint swatches home so you can see them in natural lighting. Then, start with just painting a small area as a test. If you're convinced you have the right color combo, then you can finish painting.
What are the best exterior paint colors that will help sell your home?
If you're about to sell your home, consider which colors will attract the broadest set of buyers. Our Home Improvement Consultants are all licensed agents and can also help advise on your area! Once the color scheme is chosen, all that will be left is the painting.
Traditionally, the next step might be to pay a contractor upfront or even to do it yourself. Those are the old days. Curbio has a fix now, pay when you sell model so you get started with $0 down! Curbio handles every detail of your project to start attracting buyers and you only pay after selling. If no upfront cost sounds good to you, ask your real estate agent about partnering with Curbio!
With $0 down, you can't go wrong with choosing Curbio. Get started by telling us a little bit about your home or listing and then let Curbio take it from here!