> Is Renovating Your Kitchen Before Selling Worth It?
Is Renovating Your Kitchen Before Selling Worth It?
You know the saying: "The kitchen is the heart of the home"? It's more than just a popular needlepoint pillow. It's a non-negotiable for buyers – which makes it a top priority for sellers. If it's so important, why do some people still sell their home with a dated, unattractive kitchen instead of renovating their kitchen before selling?
Because they aren't aware of how much money they're leaving on the table.
Why Kitchens Are Essential To Selling A Home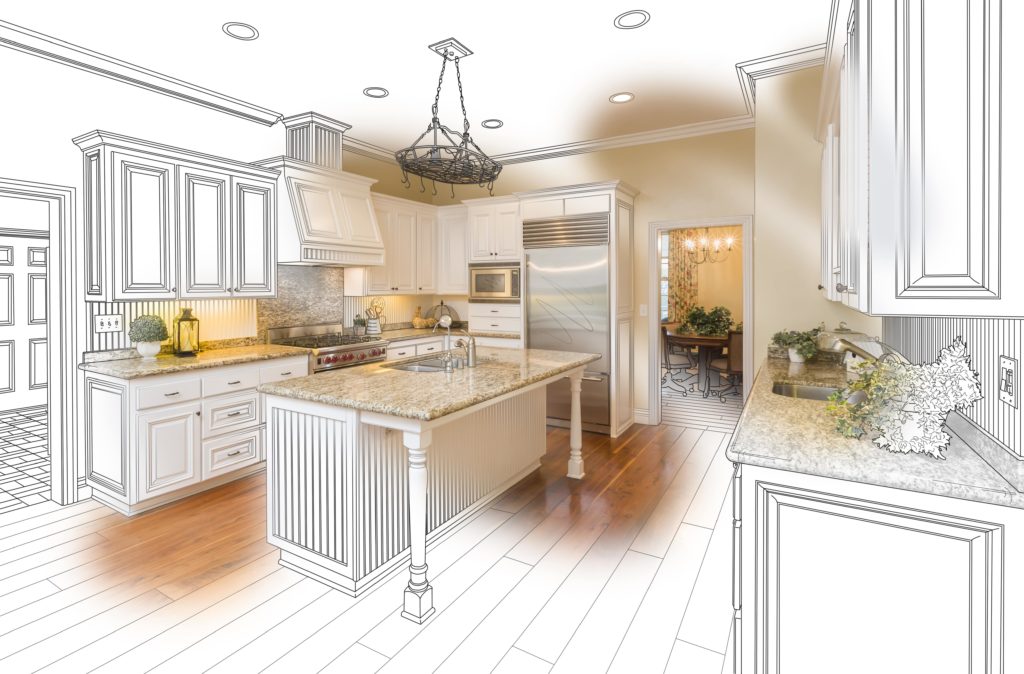 Imagine you are looking for a new home. You've been to open house after open house, looking for the one that takes your breath away. Nothing yet, but you're hopeful. You go to one more, walk into the entry way (stunning) past the home office (perfect) and the guest bath (flawless) and turn the corner into the kitchen to see a…. disappointment. Before you is a dated kitchen with zero visible kitchen upgrades. Your hopes are dashed for what you thought was your dream home. No sparks, all red flags. All you see when you look at the kitchen is how much money it will cost, if you even decide to make an offer.
So of the two options, (lowball or walk away), neither are preferable to buyers. They either let their house sit on the market for months or accept an offer far below what they deserve. That's it. That's why a kitchen remodel isn't just an "industry tip" or the guidance of a gifted realtor: it's critical to the top dollar sale of a home in this market.
If a kitchen renovation sounds expensive, don't be alarmed. Curbio can help! Update now, only pay when you sell. (Really. No fees. No interest. Just an average of $50,000 more in your pocket.)
Kitchen Upgrades That Add Value
Replaced countertops
The countertops are the first – and lasting – impression we take away from kitchens. They immediately set the tone: dark, light, warm, cool. They signal to us the taste of the previous owner, as well as the quality of materials they chose.
The years of black, speckled slabs are over. Beautiful porcelain, quartz, and granite options are in demand. The trends vary by location, so knowing what materials are popular in your area is a great way to beat out the market competition.
Refreshed cabinets
A modern kitchen will have modern cabinets. With dated, tired cabinets it is impossible for buyers to visualize the true value of a home. But there are so many options when it comes to cabinet updates, which one is best?
Replacement: Hands-down the most expensive option, but a necessary step if cabinets are non-functioning or in need of serious repair. Typically, replaced cabinets cost between $11,000-$25,000. (Yes, just for cabinets.)
Refinishing (AKA Resurfacing): Sprucing up the face of the cabinets is one of the cheapest ways to make your cabinets look like new. If they're not made of wood, this option may not be available to you – but it's easy on the checkbook and on the eyes.
Painting: On average, homeowners pay about $800 to have their cabinets painted professionally. Depending on size, the cost can start for as little as $375 and go up to around $1,600 – but it yields one of the best returns.
Read to get started on your pre-listing updates now? Click here to get your free same-day estimate.
New appliances
Old appliances stick out like a sore thumb in beautiful kitchens. Dated colors or bulky fridges and ovens can turn potential buyers away for good. In fact, 69% of buyers said in a recent survey that they would pay more for homes with updated kitchen appliances. Even better, you don't have to deal with the hassle of renovating your kitchen before selling – you just buy modern appliances. Spend less, make more!
Open floorplan
Nothing dashes the hopes of a potential buyer quicker than a dark, closed-off kitchen. Walls are the enemy of the close, community feel that accompanies an open kitchen. So it's worth considering adding an island or taking down a wall to skyrocket the sale price of your home. The cost is more substantial than just painting cabinets – the average cost of adding an island to your kitchen is between $7,000-$10,500.
Although this is more of a kitchen renovation than a kitchen refresh, it's still worth your consideration. These updates make kitchens look much bigger than they are, more open, and more functional, all of which contribute to motivating buyers and eliciting multiple offers.
Updated hardware and fixtures
Sometimes the smallest things make the biggest difference. One of the simplest kitchen upgrades you can make is swapping out older, out-of-style hardware for new, sleek, and modern hardware. In fact, trendy drawer pulls and new faucets can set the tone for the bold, stylish kitchen that will make buyers pay top dollar for your home. A new faucet is only a couple hundred dollars, and coupled with a new sink and updated hardware still comes in under $2,000. Not bad for a huge return and increased profit!
In short? Kitchen upgrades, no matter how involved or simple, are a critical step to readying your house for market. They are the focal point of prospective buyers and the heart of every home, so they're worth every penny of investment… and often yield high dividends. So whether you're considering fully renovating your kitchen before selling or simply refreshing your space with painted cabinets and new hardware, rest easy in the knowledge that your newly updated kitchen will make your open house the busiest on the block.
Instead of taking on these projects on your own, enlist the help of Curbio! The only turnkey solution for all your pre-listing updates. And the best part? You don't pay a cent until you sell. Find out more and chat with a home improvement consultant today!